Press Release
Water Ways Baja
Recognized for Business Excellence
by Water Quality Association
Todos Santos, B.C.S., Mexico – Water Ways Baja today announced it has received the honor of Business Excellence from the Water Quality Association (WQA), the leading voice of the water treatment industry. WQA's Business Excellence program calls attention to top differentiation within the industry and a commitment to the values and high standards of the Association.
"We are thrilled to be recognized for our commitment to business excellence," said Barbara Manfrediz of Water Ways Baja. "We believe it is important for customers to see the extra steps we've taken to ensure that we have a trained and certified staff, and sell certified products."
WQA's Business Excellence features a distinct gold-trimmed logo to visually underscore Water Ways Baja's commitment to the new program. The program singles out WQA members who make a special commitment to business excellence, the values of WQA and to advancing the betterment of water quality.
In order to earn this new designation, a company must meet the following qualifications:
WQA Member company in good standing
Sell one or more Certified Products
Have at least one Certified Professional on staff
"With water quality issues popping up across the country, there's never been a greater need for our industry," said WQA Executive Director Pauli Undesser. "This distinction helps showcase participants' expertise and sets them apart within the marketplace."
"Water Ways Baja is the leader in water treatment systems in Baja California Sur," said Barbara Manfrediz, owner of the company. "We have the most knowledge of, and experience with our local water. We have hundreds of clients who love their water. And we do things right or we don't do them at all. As long-time members of the Water Quality Association (WQA Members in Baja) we are held to the highest ethical standards. When the health of you, your family and friends is at stake, we are the company you can trust.
Our track record and expertise is why we are recommended by the best builders and architects in the area. Our staff is bilingual. We protect the investment of your home and provide safe, drinkable water throughout your entire home, restaurant or hotel. Maybe you just want drinking water at your kitchen sink. Whatever you want, we have a system designed specifically for you. Purification Systems You Can Trust. It's Our Promise."
WQA is a not-for-profit trade association representing the residential, commercial, and industrial water treatment industry. Since 1959, the WQA Gold Seal certification program has been certifying products that contribute to the safe consumption of water. The WQA Gold Seal program is accredited by the American National Standards Institute (ANSI) and the Standards Council of Canada (SCC).
waterwaysbaja.com
WQA.Org/BE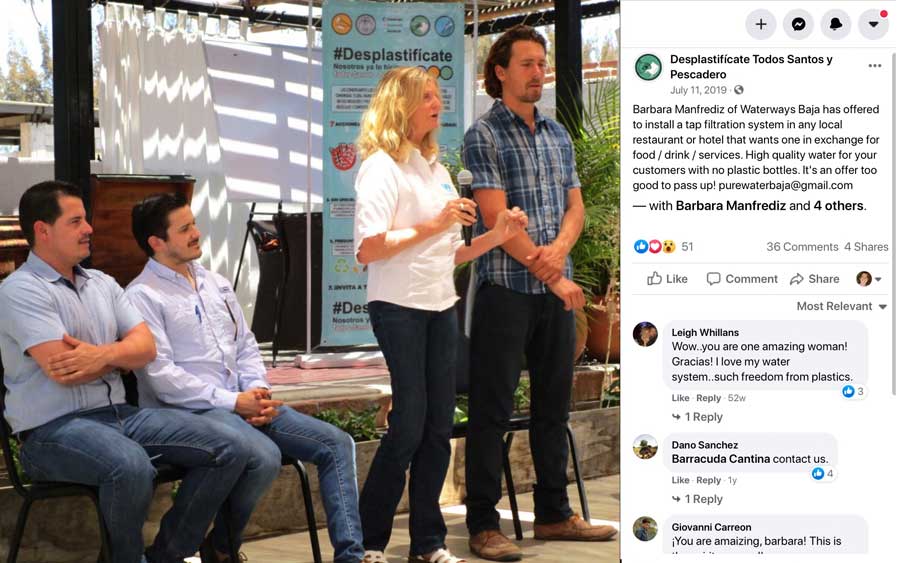 Barbara Manfrediz presents a transformational plan to local restauranteurs to eliminate single-use plastic bottles in our community.
Learn more >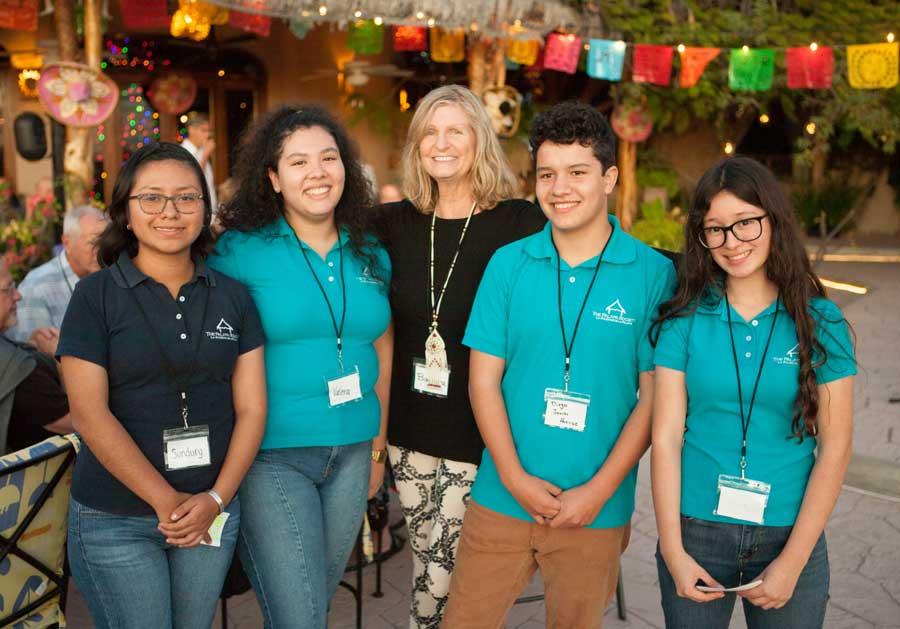 Barbara Manfrediz with Palapa Learning Center students
at the 2020 Donor Appreciation Event.
Palapa Society Newsletter April, 2017
Water Ways Baja
Barbara Manfrediz, owner of Water Ways Baja, a local drinking water treatment company, has donated a water system providing purified water to the entire Palapa learning Center. This generous donation includes a lifetime of maintenance at absolutely no cost to the Palapa Society. The specific system for PLC was custom designed based upon comprehensive testing of our municipal water.
Barbara states her decision to make this substantial donation was based not only on her desire to ensure the staff and students have safe healthy water, but also as a woman entrepreneur, to be a role model to students. "I am very hands-on. My business demonstrates, especially to girls, that anyone can start his or her own business and be successful at doing something they love.
Manfrediz sees the Palapa Learning Center as a place where she can prompt water curiosity and heighten awareness of the importance of clean water by exposing students to the science of water and it's treatment. "The water always presents a challenge and an opportunity to learn. Water is truly remarkable and with all its intricacies it can spark a curious mind to learn more. I want to share my enthusiasm and knowledge with the youth of our community. Who knows where it will lead these young minds!" Palapa Society sincerely thanks Barbara Manfrediz, owner of Water Ways Baja, for the water system and services at the new Palapa Learning Center!